Fundamental Audio
Distribution System
The Fundamental Audio Distribution System is:
The fundamental background music distribution system is used in tanning & massage salons, health spas, medical facilities, restaurants, etc.  Th​e ​system was designed to provide an alternative to constant voltage (i.e. 70V music systems) thru the use of State of the Art Class D amplifier technology. 
The Fundamental Audio System creates better sounding music, is more power efficient and saves space by mounting the base unit to a wall rather than in a equipment rack. ​ System is capable of delivering ample audio power to comfortably fill a large room with top quality sound using up to 20 amplifier (pn: fa-csa)/speaker sets.  
The fundamental was designed with simple installation in mind.  Just match the color of the wires (4 total) and hook up a speaker.  If there is an install or operational question, our USA based support staff are always willing to help.  We can provide just the audio distribution components or the "whole music system in a box." 
Information about each of the systems' components is listed below along with pricing.  Every system is unique and we can assist you with building the perfect system for your needs based on our over 20 years of music system design experience.  
Fundamental Audio System Features Include:
Simple 4 wire backbone wiring scheme – simply match the colors and connect with a wire nut.
Our design positions the amplifier next to the speaker for optimum performance.  The base mounted on the wall just conditions the input signal going to the amps in the ceiling.
Each amp is capable of delivering up to 7 watts (peak)
System meets UL requirements for Class II service (no shock/no fire) = can be installed anywhere including schools.
All Fundamental components are designed and manufactured in the USA with a combination of domestic and global parts.
1 year warranty / ​post warranty a flat $125 fee to fix anything regardless of age.
Fundamental Audio System Components: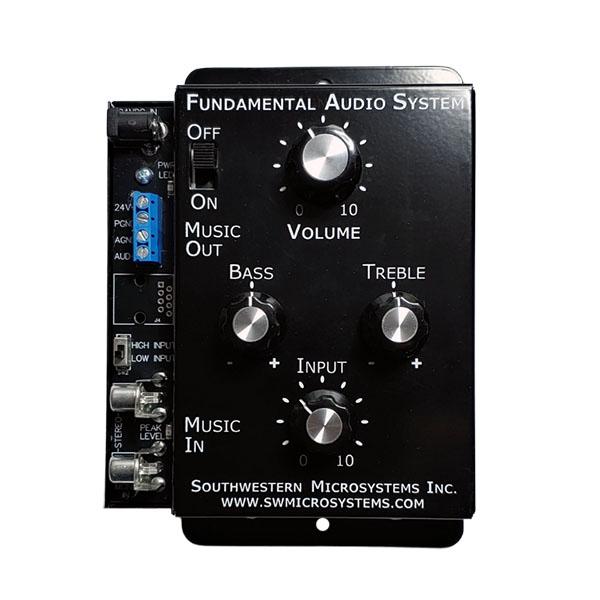 Fundamental Audio Base Unit accepts either a monaural or stereo music source via the RCA jacks. The input gain control combined with peak level detecting circuitry aids in setting the ideal input level for music clarity and performance. Capable of driving up to 20 ceiling amps/speakers, there is sufficient power for large rooms. Added bass / treble controls for optimum music clarity. Powered by 24VDC / 3.75A Class II adapter (included). PN: FA-Base, Price is $390 USD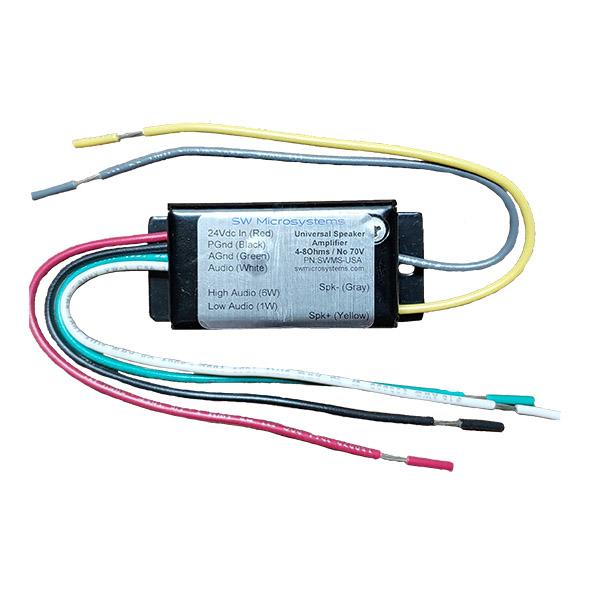 The Fundamental Ceiling Amplifier is the component that actually amplifies the audio signal to dive the associated speaker. Designed to drive an 8 ohm speaker, this system is not compatible with a constant voltage speaker with a transformer installed. Class D technology is used for small but powerful sound reproduction. Frequency response is 100 Hz to 15KHz as most background music speakers simply can't reproduce sound above 12KHz PN: FA-CSA, Price is $80 USD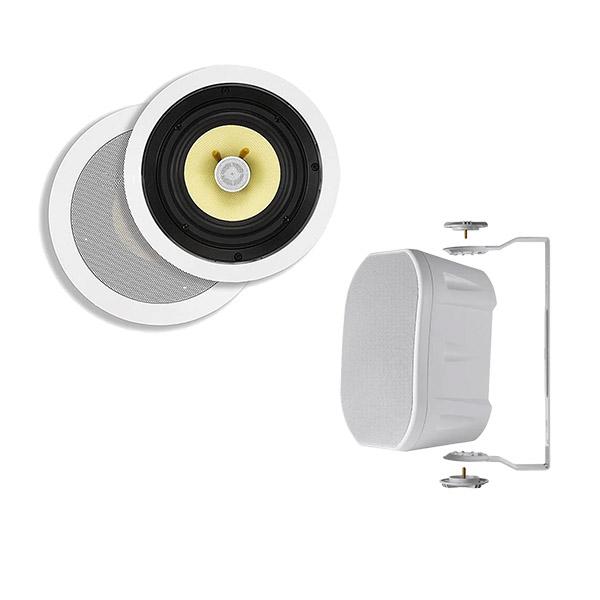 The Fundamental Audio system works with both drop ceiling mounted speakers (round style) and on-wall mounted speakers (cabinet style) just as long as the speakers have an impedance of 8 ohms. The Fundamental system is not compatible with constant voltage (use transformers) speaker types. Additionally all of the round speakers sold for use in a drop ceiling come with a support plate to suspend the speaker should the ceiling tile disintegrate. Cabinet speakers are available in White and Black. Both styles are priced at $100 each USD.